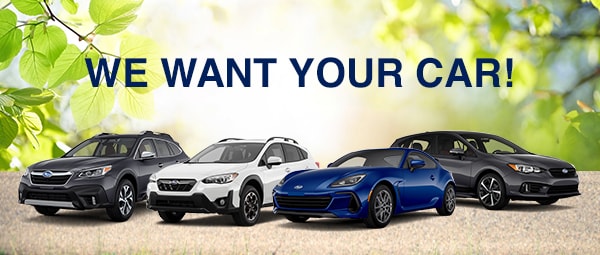 We need your help to stock our Pre-Owned inventory and we are interested in all make and models.  The process to get a free value estimate couldn't be easier at Subaru Santa Monica.  Our online Vehicle Appraisal tool below will walk you through a few easy steps that will assist us on making an offer on your vehicle.  There is absolutely no requirement to buy a new car from us. 
Appraisal Process

Enter your vehicle information in our appraisal tool below

Our in-house buyer will call you back to set up an inspection appointment
Receive your appraisal at the dealership
What Should I Bring To Inspection?
Your vehicle's title or pay-off information
Valid registration and driver's license
Keys, remotes, manuals, etc.



Get Cash for Your Used Car in Santa Monica
Redondo Beach drivers with an extra car to sell might not have considered selling to a Subaru dealership. Currently, the team at Subaru Santa Monica, located at 1229 Santa Monica Boulevard in Santa Monica, CA, is looking for used trucks, cars, and SUVs to add to our used inventory lot. If you think you have a car worth some cash, bring it to our Subaru dealership.
Plus, we can usually write you a check the same day you bring your car to us. Instead of selling your car online and haggling with potential buyers, why not just sell it to us and let us do the hard work for you?
What's the Subaru Guaranteed Trade-In Program?
The Guaranteed Trade-In Program (GTP) is a program for Subaru drivers exclusively. Essentially, after the first 12 months of ownership, the GTP secures your Subaru model's trade-in value for eight years. You must begin with a vehicle evaluation at Subaru Santa Monica. If you want to know more about the Guaranteed Trade-In Program, please don't hesitate to contact our team at 888-894-6949.
What's the Subaru Trade-Up Advantage® Offer?
Our Subaru Trade-Up Advantage® offer at Subaru Santa Monica provides a way for Subaru drivers to trade in their Subaru for a newer model at a similar price. Since Subaru models are known for holding their trade-in value, it's possible to trade an older model for a new model and keep a similar monthly payment! Like the Guaranteed Trade-In Program, our team at Subaru Santa Monica can answer any questions you may have.
It's Easy to Trade-In Your Car At Your Local Subaru Dealership
Are you ready to trade in your car at your local Torrance dealership? Make your way to Subaru Santa Monica to find a Subaru model with more safety features, upgraded technology, and bigger adventures! It's easy to trade in your car at our Subaru dealership:
First, bring your vehicle to Subaru Santa Monica for an inspection.
Next, our in-house buy will give you an appraisal. If you accept, now we move on to our inventory lot to find you a new Subaru!

When you visit our Subaru dealership, be sure to bring your vehicle's title, registration, your driver's license, and any keys or manuals you have.

Learn More About Selling a Car at Subaru Santa Monica

When the time comes to sell or trade-in your used car in California, you know you can trust Subaru Santa Monica to give you a good price. We aren't here to low-ball you: we genuinely want to pay top dollar for your used car!

We're easy to find, just southwest of West Hollywood, a few blocks from Memorial Park and Euclid Park. The entire staff at Subaru of Santa Monica looks forward to serving you!